About Us
Bombay Spice is a Indian takeaway in Norwich. Why don't you try our Korma or Chicken Tikka Chilli Masala?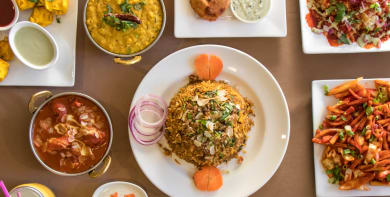 Reviews
14 reviews
Mr
"Excellent service and great food"
29/04/2021
Sharon
"Great food"
24/04/2021
Peter
"Highly recommended cuisine. The Tandoori mixed grill is really, really good. Do yourself a favour."
17/04/2021
Shikiera
"Good food, delivery driver was very polite, will be using again!"
13/04/2021
Menu
Chicken Tikka Medium Curry
£6.50
Meal For Four
4 Poppadom
2 Onion Bhaji
1 Samosa
1 Chicken TIkka
1 Chicken Korma
1 Chicken Madras
1 Meat Rogan
1 Vegetable Jalfrezi
1 Saag Aloo
1 Bombay Aloo
4 Pilau Rice
2 Plain Naan
Mixed salad
£50.95
Meal For One
1 Poppadom
1 Chicken Tikka Starter
1 Chicken Korma
1 Saag Aloo
1 Pilau Rice
1 Naan
Mixed salad
£12.00
Meal For Three
3 Poppadom
1 Onion Bhaji
2 Chicken Tikka Starter
1 Chicken Tikka Masala
1 Meat Dopiaza
Vegetable Rogan
1 Aloo Gobi
1 Saag Bhaji
3 Pilau Rice
2 Naan
Mixed salad
£32.95
Meal For Two
2 Poppadom
2 Onion Bhaji
1 Chicken Bhuna
1 Meat Rogan
1 Aloo Gobi
2 Pilau Rice
1 Naan
Mixed salad
£21.00
Chicken Tikka Chilli Masala
£6.95
Chicken Tikka Starter
Marinated diced chicken roasted on a skewer in a tandoor Indian clay oven
£3.20
King Prawn Butterfly
King sized prawns marinated with special spices & herbs. Coated in breadcrumbs & deep fried
£5.50
King Prawn Puri
King sized prawn cooked in a spicy sauce served with deep fried puffy bread
£5.50
Lamb Tikka Starter
Marinated diced lamb roasted on a skewer in a tandoor Indian clay oven
£3.20
Chicken Chaat
Spiced chicken cooked in special chaat masala with tomato & cucumber
£3.20
Prawn Cocktail
Small prawns served with lettuce in a cocktail sauce
£3.20
Onion Bhaji
Chopped onion marinated in gram flour, deep fried in a round ball
£2.70
Tandoori Chicken Starter
Marinated chicken on a skewer cooked in a tandoor Indian clay oven
£3.20
Shami Kebab
Finely minced lamb flavoured with spices & herbs
£3.20
Prawn Puri
Small prawns cooked in spicy sauce served with deep fried puffy bread
£3.20
Samosa Meat
Triangle shaped savoury, filled with spicy minced meat
£2.70
Samosa Vegetable
Triangle shaped savoury, filled with spicy minced meat
£2.70
Seekh Kebab
Minced lamb mixed with special herbs & spices roasted on a skewer
£3.20
Mushroom Pilau Rice
Rice with mushroom
£3.20
Special Fried Rice
With eggs & peas
£3.20
Vegetable Pilau Rice
Rice fried with vegetables
£3.20
Keema Pilau Rice
Rice with minced meat
£3.20
Lamb Tikka Pasanda
With almond powder (very mild)
£7.50
Chicken Tikka Pasanda
With almond powder (very mild)
£6.95
Tandoori King Prawn Masala
£12.95
Tarka Daal
Lentils with fresh garlic
£3.20
Vegetable Curry
Mixed vegetable
£3.20
Saag Aloo
Spinach & potato
£3.20
Saag Chana
Spinach & chickpeas
£3.20
Saag Daal
Spinach & lentils
£3.20
Saag Gobi
Spinach & cauliflower
£3.20
Aloo Gobi
Potato & cauliflower
£3.20
Aloo Chana
Chickpeas & potato
£3.20
Special Biryani
Chicken, meat & prawn
£10.50
Special Offer 1
•Poppadom
•Onion bhaji with red sauce
•Chicken korma
•Pilau rice or naan
£8.95
Special Offer 2
•Poppadom
•Onion bhaji with red sauce
•Chicken tikka masala
•Pilau rice or naan
£9.95
Special Offer 3
•Poppadom
•Onion bhaji with red sauce
•Meat rogan
•Pilau rice or naan
£8.95
Special Offer 4
•Poppadom
•Onion bhaji with red sauce
•Chicken bhuna
•Pilau rice or naan
£8.95
Special Offer 5
•Poppadom
•Onion bhaji with red sauce
•Chicken madras
•Pilau rice or naan
£8.95
Special Offer 6
•Poppadom
•Onion bhaji with red sauce
•Vegetable bhuna
•Pilau rice or naan
£8.95
Special Offer 7
•Poppadom
•Onion bhaji with red sauce
•Vegetable jalfrezi
•Pilau rice or naan
£8.95
Contact Us
Find Us
42 Saint Augustines Street, Norwich, NR33AD
We deliver to
NR1, NR10, NR2, NR3, NR4, NR5, NR6, NR7, NR8, NR9