About Us
Bombay Spice is a Indian takeaway in Norwich. Why don't you try our Korma or Chicken Tikka Chilli Masala?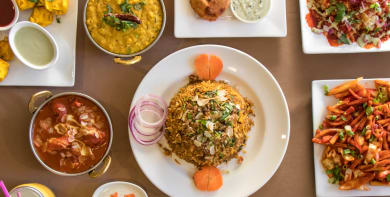 Reviews
24 reviews
Sarah
"Really delicious food of good quality and very honest delivery driver (we gave him too much money by mistake and he brought it back!) Will def order again"
22/05/2021
Mr
"Excellent service and great food"
29/04/2021
Sharon
"Great food"
24/04/2021
Peter
"Highly recommended cuisine. The Tandoori mixed grill is really, really good. Do yourself a favour."
17/04/2021
Menu
Special Offer 1
•Poppadom
•Onion bhaji with red sauce
•Chicken korma
•Pilau rice or naan
£8.95
Special Offer 2
•Poppadom
•Onion bhaji with red sauce
•Chicken tikka masala
•Pilau rice or naan
£9.95
Special Offer 3
•Poppadom
•Onion bhaji with red sauce
•Meat rogan
•Pilau rice or naan
£8.95
Special Offer 4
•Poppadom
•Onion bhaji with red sauce
•Chicken bhuna
•Pilau rice or naan
£8.95
Special Offer 5
•Poppadom
•Onion bhaji with red sauce
•Chicken madras
•Pilau rice or naan
£8.95
Special Offer 6
•Poppadom
•Onion bhaji with red sauce
•Vegetable bhuna
•Pilau rice or naan
£8.95
Special Offer 7
•Poppadom
•Onion bhaji with red sauce
•Vegetable jalfrezi
•Pilau rice or naan
£8.95
Onion Bhaji
Chopped onion marinated in gram flour, deep fried in a round ball
£2.70
Samosa Meat
Triangle shaped savoury, filled with spicy minced meat
£2.70
Samosa Vegetable
Triangle shaped savoury, filled with spicy minced meat
£2.70
Prawn Cocktail
Small prawns served with lettuce in a cocktail sauce
£3.20
King Prawn Butterfly
King sized prawns marinated with special spices & herbs. Coated in breadcrumbs & deep fried
£5.50
Prawn Puri
Small prawns cooked in spicy sauce served with deep fried puffy bread
£3.20
King Prawn Puri
King sized prawn cooked in a spicy sauce served with deep fried puffy bread
£5.50
Shami Kebab
Finely minced lamb flavoured with spices & herbs
£3.20
Seekh Kebab
Minced lamb mixed with special herbs & spices roasted on a skewer
£3.20
Chicken Chaat
Spiced chicken cooked in special chaat masala with tomato & cucumber
£3.20
Chicken Tikka Starter
Marinated diced chicken roasted on a skewer in a tandoor Indian clay oven
£3.20
Lamb Tikka Starter
Marinated diced lamb roasted on a skewer in a tandoor Indian clay oven
£3.20
Tandoori Chicken Starter
Marinated chicken on a skewer cooked in a tandoor Indian clay oven
£3.20
Tandoori King Prawn Masala
£12.95
Chicken Tikka Pasanda
With almond powder (very mild)
£6.95
Lamb Tikka Pasanda
With almond powder (very mild)
£7.50
Chicken Tikka Chilli Masala
£6.95
Special Biryani
Chicken, meat & prawn
£10.50
Chicken Tikka Medium Curry
£6.50
Tarka Daal
Lentils with fresh garlic
£3.20
Vegetable Curry
Mixed vegetable
£3.20
Aloo Chana
Chickpeas & potato
£3.20
Saag Gobi
Spinach & cauliflower
£3.20
Saag Aloo
Spinach & potato
£3.20
Aloo Gobi
Potato & cauliflower
£3.20
Saag Daal
Spinach & lentils
£3.20
Saag Chana
Spinach & chickpeas
£3.20
Vegetable Pilau Rice
Rice fried with vegetables
£3.20
Keema Pilau Rice
Rice with minced meat
£3.20
Mushroom Pilau Rice
Rice with mushroom
£3.20
Special Fried Rice
With eggs & peas
£3.20
Meal For One
1 Poppadom
1 Chicken Tikka Starter
1 Chicken Korma
1 Saag Aloo
1 Pilau Rice
1 Naan
Mixed salad
£12.00
Meal For Two
2 Poppadom
2 Onion Bhaji
1 Chicken Bhuna
1 Meat Rogan
1 Aloo Gobi
2 Pilau Rice
1 Naan
Mixed salad
£21.00
Meal For Three
3 Poppadom
1 Onion Bhaji
2 Chicken Tikka Starter
1 Chicken Tikka Masala
1 Meat Dopiaza
Vegetable Rogan
1 Aloo Gobi
1 Saag Bhaji
3 Pilau Rice
2 Naan
Mixed salad
£32.95
Meal For Four
4 Poppadom
2 Onion Bhaji
1 Samosa
1 Chicken TIkka
1 Chicken Korma
1 Chicken Madras
1 Meat Rogan
1 Vegetable Jalfrezi
1 Saag Aloo
1 Bombay Aloo
4 Pilau Rice
2 Plain Naan
Mixed salad
£50.95
Contact Us
Find Us
42 Saint Augustines Street, Norwich, NR33AD
We deliver to
NR1, NR10, NR2, NR3, NR4, NR5, NR6, NR7, NR8, NR9